Nextel shuts down service and installment of consumers will have to change phone number. Operator attributed decision to the lack of new smartphones compatible with radio.
By Gabriel Ribeiro for TechTudo
Nextel said it will end its iconic radio service, which made the carrier a well-known brand in Brazil on March 31, 2018. With the iDEN network shutdown, it is recommended that subscribers choose other plans offered by the company.
Some customers need to change their numbers because they use the Specific Mobile Service mode, where phones have not gained the ninth digit so far. In contact with TechTudo, Nextel estimated that 10% of the consumer base is in this situation. Therefore, most customers are in Personal Mobile Service mode, where the ninth digit is in effect.
BlackBerry Curve 8350i was one of the most successful PTT devices in the 2000s (Photo: Press Release / BlackBerry) (Photo: BlackBerry)
Nextel's efforts will be focused on expanding coverage of 4G and 3G networks. The operator pointed out that the lack of new smartphones with radio technology was "crucial" for them to decide to end the service.
Nextel: Brief History
Nextel has been offering radio plans in Brazil since 1997. In the 2000s, the company was very successful with the service, which uses a different mobile phone network, called iDEN, and allows devices to communicate through a technology called Push To Talk. (PTT). In practice, the radio works like a walkie talkie, but without the problem with the distance limit between the handsets.
In addition to competition with messaging applications, another issue that weighed in deciding to turn off the network was the difficulty of importing devices. According to the company, smartphones compatible with the technology are no longer made in Brazil and importing is no longer advantageous, since the final price for the consumer would not be competitive.
A Nextel WhatsApp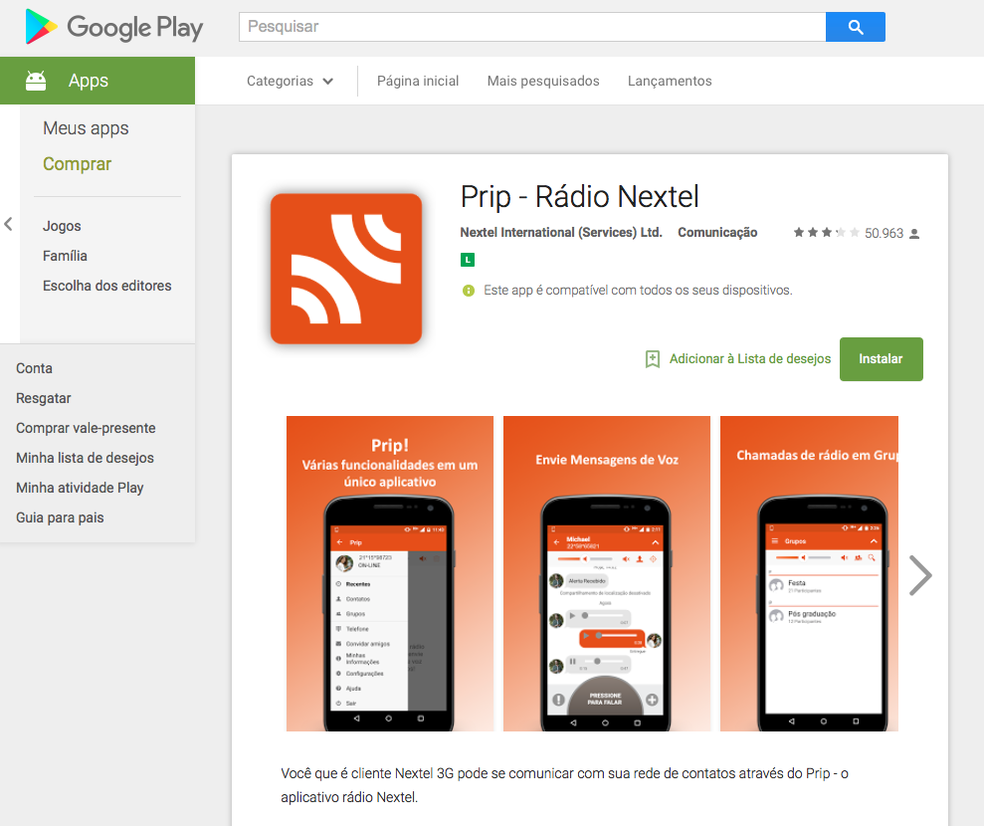 Prip app page on the official Android store (Photo: Playback / TechTudo)
Alternatively, Nextel offers a Prip app that promises to turn any smartphone into a radio. The tool acts as a messenger for the company's customers, offering features similar to those of WhatsApp, such as the ability to make calls over Wi-Fi, send voice messages and share location. The app also allows you to make group calls with contacts.
Nextel wants radio customers to migrate to the company's other plans. For this, the company offers different conditions and facilities in the purchase of a new smartphone. The Galaxy J7 Prime, for example, goes for $ 840 for those who hire a plan with 7 GB of data. The device has an average price of $ 990 in national retail.
With information: [Tecnoblog]
Read more:
–For more spectrum, Claro Brazil buys Nextel for R $ 3.47 billion
–Nextel closes radio service in Brazil; iDEN network goes down in 2018